You have a TV and sound bar but aren't sure about how to get started connecting your blu-ray. We will cover how to connect Blu-Ray to HDMI-IN and TV (HDMI Arc port) to HDMI-out (on soundbar device) for all your cable needs.
Electronics are confusing. Perhaps you've managed to connect your soundbar to your TV, but now you don't know how to connect your blu-ray to the TV and soundbar?
Don't worry, we are here to help. With only a few easy steps, you can get your Blu-ray player to connect to your TV and soundbar so you can watch and hear everything and have a fully immersive experience.
We don't want anyone to give up on technology.
We Think You'll Like: Best Soundbar Under 100
What you will need to follow in this tutorial
Connecting your blue-ray player to your TV and soundbar set-up is so easy, you only need two things.
The port hub itself is not even necessary if you have enough outlets near your system, but it can help manage your cable situation.
Therefore, the only real necessary item you need is an HDMI cable. This allows you to connect your Blu-ray player to your TV. If your TV is properly connected to your soundbar, then it should move the sound for you from your Blu-ray player to your soundbar by itself.
If you aren't sure how to connect your soundbar to your TV, check out some of our other tutorials for instructions on how to do that.
You may also have to move your soundbar to a different connection setting if you don't have another HDMI port free, so keep that in mind.
Step by step instructions
Step 1: Check Your TV HDMI Ports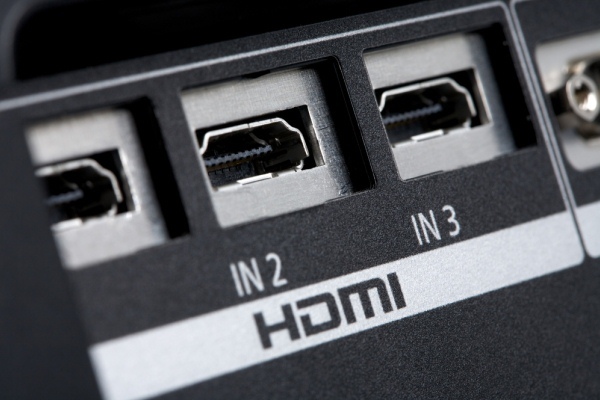 The first thing to do is to make sure you have the space to plug in your Blu-ray player. It requires an HDMI port, so you need to have one available. Specifically, if you have an HDMI ARC port, that would be the best one to have available.
If you have the space, then you are ready to go. Otherwise, you may have to adjust the items you have plugged in to better make sure that everything can fit and switch to different cables with some devices if you are able.
Step 2: Move Your Soundbar to A Different Port (If Necessary)
One option if you don't have enough HDMI ports is to check your soundbar. If you hooked it up with an HDMI cable, perhaps you can switch it to something else. For example, an optical cable is a good alternative and frees up space for your HDMI port for the Blu-ray player.
If you aren't sure what other cords you can use, or how they work, check out some of our other tutorials to learn the best way to set up your soundbar, no matter the brand of bar or TV.
Otherwise, if you are already using a different connection, you can skip this step.
Step 3: Make Sure You Have An Outlet Available
It's also important to make sure that you have an outlet available. Even though it connects to the TV, it still needs its own power source. Often, people find there aren't enough outlets near their TV.
Even if you don't have a large number of electronics, this may be true for you. This is because the soundbar, TV, and Blu-ray all need separate plug-ins. So if you only have one outlet nearby, you don't have enough plug-ins.
If you are part of a big family that has multiple devices, various speakers, and even some game consoles, you will find that even the most modern of homes is lacking the necessary plug0ins.
Thankfully, there is an easy solution. You can buy a port hub from almost any store for relatively cheap. Some nice ones provide surge protection, but any will work.
These plug into one port on an outlet and provide you with a few more. You can get whole strips that have 8 or 9 outlets relatively easily.
Step 4: Get yourself a high bandwidth HDMI Cable
Chances are you have at least one spare HDMI cable just lying around which will work just fine with the HDMI ARC ports to deliver great audio.
If you want to take full advantage of audio technologies like Dolby Atmos, you might need a slightly beefier version of the HDMI cable than what you may have.
Related: Dolby Atmos: Everything You Need To Know
A high bandwidth HDMI cable will be better equipped to handle the large volume of data that passes through it when transmitting 5.1 surround sound or other high-definition audio technologies.
HDMI cables are great for simplifying cable management for end-users because they can transfer both video and audio data from a single source. By plugging your high bandwidth HDMI cable into an HDMI ARC port, you can use your connected soundbar for audio from all of your other input sources.
Once you get the appropriate HDMI cable and are sure you have enough ports, you are ready to connect.
Step 5: Connect Your Blue-Ray to Your TV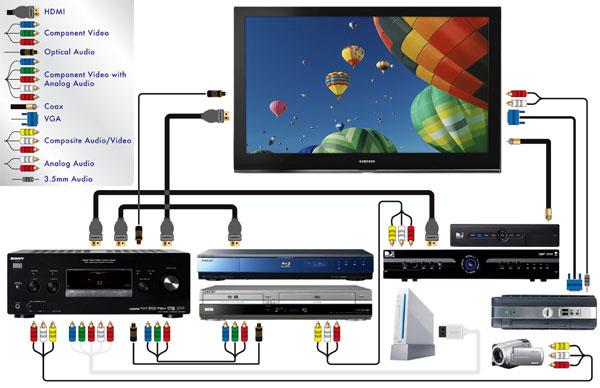 This is easy enough to do. All you need to do is plug two cords. The first one is simply the power cord, and this goes into an outlet like any other electronic.
Plug this into any nearby available outlet and you are good to go for power.
Next, you want to plug your HDMI cord into both your Blu-ray player and your TV. Some people recommend turning off both systems just in case, but we don't bother honestly.
It doesn't matter which you plug into first. We tend to start with the TV, as it is harder to get to that port. But you can do whichever you prefer.
It also doesn't matter which side of the HDMI cable you use where. Both ends are the same, so you can plug whichever side you want into the TV, and use the other one for the Blu-ray player.
Make sure those are nice and secure and you are set.
Step 6: Check your systems
As with any system, electronic or otherwise, you want to check to make sure everything is working properly.
Turn on your Blu-ray, TV, and Soundbar. Then, you can test it with a movie. Make sure you can see and hear everything quickly and that all the remotes are working as they should.
If they aren't you may need to troubleshoot. Here are some common problems with systems that aren't working.
Batteries in the remotes are dead or dying. Check to make sure you have batteries in the remotes, and that they are new and not dead.
The Infrared/LED signal from the remote to the system is blocked. Always check to make sure that no clutter or decorations are blocking the area where each of your devices receives its signal.
You are using the wrong remotes for the wrong devices. Make sure your remotes are clearly coded so you know what you are using and what device it goes to.
The cords aren't in securely enough. Always check to make sure your cords are placed securely. If they are loose, or not in firmly enough, it may mean that the sound or video isn't working as it should.
The cords are low-quality or faulty and aren't working as they should. For this one, check where the cords are plugged into the devices. Are they really hot? If so, you may need a different cable as yours may be faulty or damaged in some way.
We Think You'll Like: How to Connect Vizio Soundbar to Samsung TV
Conclusion
At the end of this, you should be ready to sit down and enjoy a Blu-ray movie on your TV with your sound speaker blasting you with the noise. If you darken the lights, you may even feel like you are in the theater.
Leave a comment below, telling us what you think of our review. We want to be able to help our readers to the best of our ability, and it is always nice to hear what we are doing right or what can be improved. Don't forget to check out our other tutorials if you need additional help.
John Fleming is the senior editor for Audiophilez.com, covering everything from headphones to smart speakers. He is a graduate of Music Production and Technology. Before Audiophilez, John began his career as a staff writer for two different magazines, where he became a skilled storyteller across different mediums. When he isn't writing, he can be found biking, reading books, and playing the piano.